A group of young people from Hemel Hempstead have won a national Prince's Trust Award for developing part of a nursing home garden.
Team 8 was celebrated at a star-studded virtual awards ceremony yesterday (March 11) after developing part of a nursing home garden to make it easier for residents to enjoy the outdoors and make gardening activities easier.
They have won the prestigious Dell Technologies Community Impact Award, which recognizes the positive contribution young people make to their local community or school during their development
"/>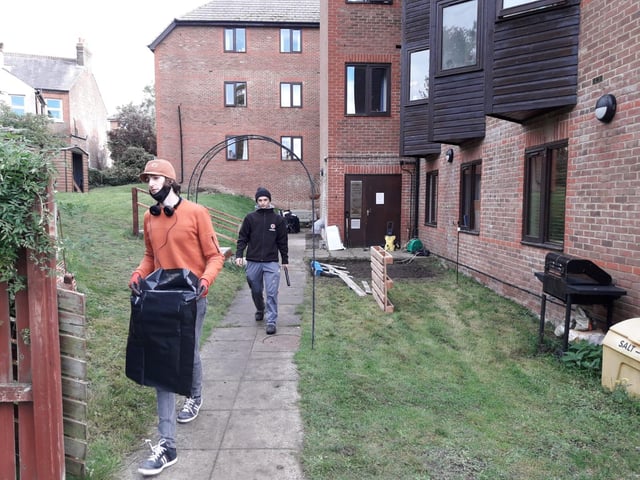 Team 8 was celebrated at a star-studded virtual awards ceremony yesterday
The ceremony was hosted by Ant and Dec and included appearances by celebrities such as Dame Helen Mirren, Anne-Marie, Idris Elba, Alesha Dixon, Holly Willoughby and Philip Schofield.
The Prince's Trust and TK Maxx and Homesense Awards recognize young people who have changed their lives, succeeded in spite of adversity, and made a positive impact on their local community.
This year's winners congratulated the young people on their well-deserved awards and received a very special video message from the founder and president of the Prince's Trust, HRH The Prince of Wales.
On the taped video message, The Prince's Trust Founder and President, HRH The Prince of Wales said, "I would like to wholeheartedly congratulate all of this year's winners. Each of you have inspired us with your determination, your incredible spirit and your commitment to a truly positive future. "
As part of their team program, the teens ran a community project to help residents of the Alexandra Nursing Home in Hemel Hempstead enjoy the garden of the house and see their friends and family when visiting restrictions allow by upgrading part of a garden .
Some members of the team have spent the past six months with little or no social interaction, causing mental health problems and exacerbating battles with depression and anxiety.
Working on the project gave the team a real support system. Since the end of the project, many young people have had more positive results, both personally and professionally, many of whom have continued their education and taken up employment.
Members of the team continue to volunteer at the nursing home to reserve the place for their new resident friends.
After receiving the Dell Technologies Community Impact Award, one of the team members, Joe, said, "We were all so happy to be doing something positive in these dark days.
"It was really worth it to be able to help with this project and to make the garden even more beautiful for the residents."
Katy Bowen, manager of Prince's Trust Delivery Partner at Hertfordshire Fire and Rescue Service, who leads the team program on behalf of The Trust in Hemel Hempstead, said: "We have all been so impressed with Team 8's work ethic.
"It was wonderful to see how they bonded as a team and that lasting friendships were made."
Dayne Turbitt, Senior Vice President and GM of Dell Technologies, said, "On behalf of everyone at Dell Technologies, I congratulate Team 8 on winning the Prince's Trust Community Impact Award and the positive contribution that young people in their community are making of their own Develop skills.
"Together they worked to create a space and environment that would bring joy to so many people in care at such a difficult time.
"Congratulations again to a thoroughly deserving team!"
Youth Welfare The Prince's Trust helps young people aged 11-30 who are unemployed or having difficulties in their education to change their lives by helping them reach their potential.
The Trust's hands-on courses, along with the support of its youth workers and mentors, provide young people with the confidence and skills they need to get started in work, training and education.
Celebrity Ambassadors and Presenters Holly Willoughby and Philip Schofield said, "These young people have done so much not only for their community but for themselves and should be incredibly proud of everything they have achieved!"
TK Maxx and Homesense have been partners of The Prince's Trust since 2013 and one of The Trust's largest delivery partners for the Get in Retail program.
This is a two to six week course designed to develop young people's skills in retail and help them achieve positive outcomes in retail.
Since the beginning of the partnership, over 70% of the young people who have attended the course have taken up full-time employment at TK Maxx or Homesense.